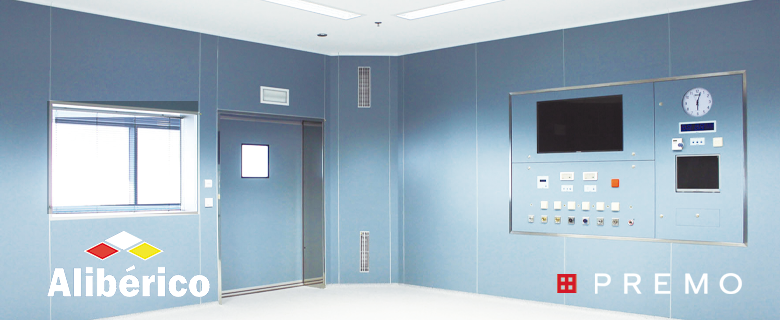 Its subsidiary Alintra Systems will develop and manufacture in Miranda de Ebro (Burgos) a new generation of operating rooms for hospitals, which will be marketed under the Sanilux brand.
Madrid, February 26 – Aliberico, Spain's leading private group and Europe's leading family-owned manufacturer of semi-finished aluminium products, announces the acquisition of a 20% stake in the Navarre-based company Premo Sistemas Modulares, Spain's leading manufacturer of high-quality bulkheads for office spaces and special applications, such as operating rooms.
As part of this operation, the Grupo Aliberico and Premo Sistemas Modulares have signed a strategic agreement whereby together with Alintra Systems, Aliberico's subsidiary specializing in advanced aluminium materials, they will develop and manufacture a new generation of operating rooms for hospitals, which will be marketed under the Sanilux brand.
The new generation of operating rooms, characterized by providing a modular, flexible and industrialized solution to hospital centers, and susceptible to modification and expansion without building works or waste, will have as base material the larcore® honeycomb panel, manufactured by Aliberico through its subsidiary Alucoil.
As part of its Sanilux promotion and marketing strategy, a full-scale operating room will be assembled at the Alintra Systems factory, which will provide healthcare professionals and managers with a realistic experience of the performance of this new concept of surgical facility.
Most of the existing hospital facilities in Spain were built in the sixties and seventies of the last century, and will foreseeably deal with major interventions in the coming years in order to adapt their facilities to substantial changes in the way hospital medicine is practiced, as a result of the development of numerous technologies that favor mobility and flexibility.
Clemente González Soler, president of Aliberico, stated in relation to this corporate operation: "The incorporation of Premo as a shareholder is part of the innovation and diversification strategy in which the Aliberico is immersed in order to position itself with advanced and technological products in sectors with great development potential and strong projection in foreign markets. development potential and strong projection in foreign markets. For Aliberico it is a great satisfaction to be part of a company like Premo, pioneer and leader in its sector worldwide, with which we share values and business vision".
Miguel Zandío, CEO of Premo Sistemas Modulares, said: "Having Aliberico as a shareholder reinforces Premo's value proposition to the market.  In addition to our extensive knowledge of modular systems and their application in complex environments, we will add Aliberico's great capacity and experience in developing state-of-the-art, highly resistant, lightweight and versatile materials, as well as the support of an extensive commercial network with presence in the five continents".
About Aliberico
Aliberico is the first Spanish private group and the first European family group to manufacture semi-processed aluminium products.
The Group currently comprises 35 companies and 17 factories located in 7 countries on 3 continents.  The company employs 1,200 workers and its products are sold in more than 80 countries on 5 continents.
Aliberico operates in the packaging, building, surface treatment, transportation, industry and renewable energy sectors with technologically advanced aluminium products and premium brands recognized as leaders worldwide.
About Premo Sistemas Modulares
Premo is a Navarre-based company dedicated to the design, development, manufacture and installation of vertical modular partitioning elements for interiors. Founded in 1965, and with a factory in Torres de Elorz, Navarra, Premo bases its proposal to the market on quality, design and flexibility to offer tailor-made services to its customers. Premo markets its products in Europe, North America, Latin America, Africa and the Middle East.
https://www.aliberico.com/wp-content/uploads/2021/02/ALIBERICO-PREMO-V3.png
320
780
Marketing
https://www.aliberico.com/wp-content/uploads/2016/06/logo-2.jpg
Marketing
2021-02-26 14:39:37
2021-02-26 14:39:37
ALIBERICO ACQUIRES 20% OF THE NAVARRE-BASED COMPANY PREMO AND ENTERS THE HOSPITAL EQUIPMENT AND INSTALLATIONS MARKET