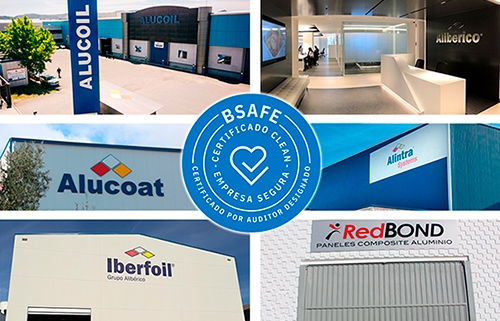 Granted by EFCL and ADEFAM, certifies that Aliberico work centres meet the requirements of hygiene, cleanliness and social distancing aimed at the control and prevention of Covid-19.
Madrid, June 30th. – Aliberico, the first Spanish and European family group that manufactures semi-processed aluminium products, has obtained the BSAFE certificate for its headquarters in Madrid and its various factories in Spain.
This seal, awarded by EFCL (Family Business Association of Castilla y León) and ADEFAM (Family Business Association of Madrid), certifies that Aliberico work centres comply with the requirements of hygiene, cleanliness and social distancing aimed at the control and prevention of Covid-19.
In this way, the central offices of Aliberico (Madrid) and the factories of Iberfoil (Sabiñánigo), RedBOND (Alicante), Aliberico Food Packaging (Madrid), Alucoat (Linares), Alucoil and Alintra Systems (Miranda), already have this certification that accredits them as "clean and safe" work spaces.
Since the beginning of March, when the Covid-19 health crisis broke out, Aliberico and all its factories have been adapting to the new situation with the implementation of strict protocols that have allowed them to maintain the supply to customers over time and protect employees.
Aliberico has made hygiene in its workplaces extreme by increasing cleaning and disinfection services both in open spaces and for shared use, using products recommended by the WHO. Likewise, it has established the minimum social distance in all work stations and made an effort to disseminate and train, supported by posters on the premises, to raise awareness of the new health and safety regulations.
Other measures implemented in the Group's work centres have consisted of providing employees with all the necessary protective material, such as masks and hydro-alcoholic gel, and encouraging private transport, facilitating vehicle access to the factories.
KPMG is the entity in charge of auditing the procedures and activities implemented in the companies applying for the BSAFE seal.
Aliberico is a company that subscribes to the objective SDG 3 of the United Nations, in order to guarantee a healthy life and promote the well-being of citizens.
"Strengthening the protection and safety of our workers, suppliers and customers has been our main concern since the beginning of the pandemic. With this objective in mind, we have established strict health and safety protocols that have now been endorsed with BSAFE certification. However, their implementation in record time and in such an effective manner would not have been possible without the effort and commitment of our employees to continue providing the best service," says Clemente González Soler, president of Aliberico.
https://www.aliberico.com/wp-content/uploads/2020/06/Foto-nota-de-prensa-Fábricas-BSAFE-2-2.jpg
334
500
Marketing
https://www.aliberico.com/wp-content/uploads/2016/06/logo-2.jpg
Marketing
2020-06-30 13:39:16
2020-06-30 13:39:16
ALIBERICO OBTAINS THE BSAFE SEAL OF "CLEAN AND SAFE" COMPANY