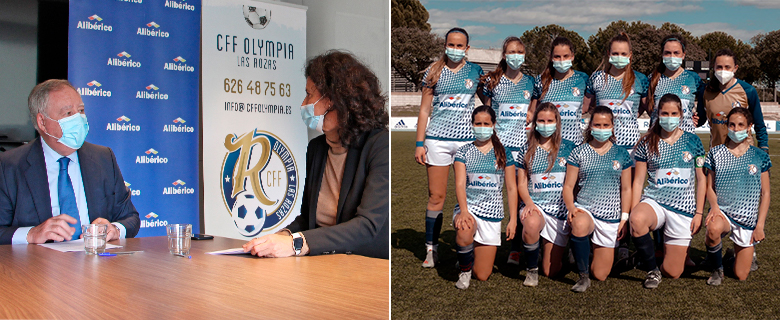 A commitment to sport and equality within its Sustainable Development Goals plan, creating a path towards a more prosperous and sustainable world.
Aliberico, the first Spanish and European private family group, manufacturer of aluminium semi-processed products, continues supporting women's football in Spain with the renewal of its sponsorship, for two more seasons, to the Olympia Las Rozas Women's Football Club, with which it has had a collaboration agreement since 2020.
The non-profit project was born in 2015 with the unique objective of promoting women's sport, and particularly football, in all its categories and ages, from children to adults.
The agreement was signed this morning at the headquarters of Aliberico, between its president, Clemente González Soler, and the president of the Olympia Las Rozas Football Club, Sonia Soria Colino.
Aliberico and the Olympia Las Rozas Women's Football Club share the vision of believing and trusting in people, always on equal terms and opportunities, and share an identical culture around objectives and values such as teamwork, effort, passion and enthusiasm to achieve new goals.
Since its foundation, CFF Olympia Las Rozas has achieved remarkable sporting success, placing several of its teams at the top of the various categories. At the moment, both its Juvenil Preferente and Senior A teams are at the top of the rankings.
Indeed, it has been attitudes such as the effort and determination of its players to give their best in every match, which have determined ALIBERICO's decision to continue supporting the Club.
During the contract renewal ceremony, Clemente González Soler, president of Aliberico, said: "At Aliberico we are very proud to be part of the CFF Olympia Las Rozas family, to promote sport and to be able to help the players to achieve their dreams".
Sonia Soria Colino, president of Olympia Las Rozas Football Club, said: "I am very proud to be able to renew the partnership for two more seasons with Aliberico, because in addition to sharing the values of sport, it shows that it is a modern and friendly company that truly believes in equal opportunities. It is a privilege to be able to count on a company that suffers with our defeats and enjoys our victories, a company that helps us and gives us stability. Society needs more entrepreneurs like Clemente".
https://www.aliberico.com/wp-content/uploads/2021/04/Foto-Noticia-Renov-patrocinio.jpg
320
780
Marketing
https://www.aliberico.com/wp-content/uploads/2016/06/logo-2.jpg
Marketing
2021-04-29 11:16:10
2021-04-29 11:16:10
ALIBERICO RENEWS TWO MORE SEASONS WITH CFF OLYMPIA LAS ROZAS