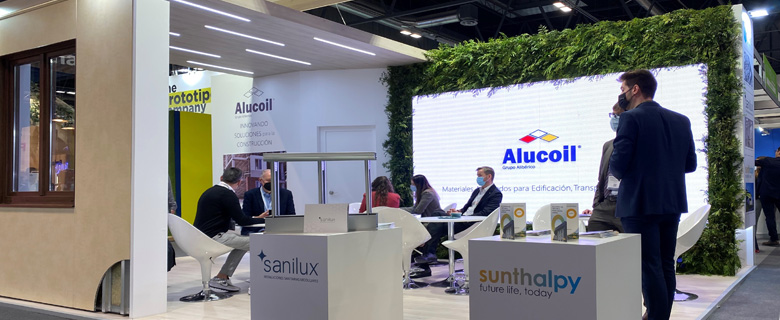 Alucoil's collaboration with Spans Building Tech and Sunthalpy results in a comprehensive solution that provides speed of execution, cost savings and is 100% sustainable.
Madrid, April 26th – Alucoil, a multinational company belonging to the Grupo Alibérico and specialized in the manufacture of advanced building materials, presents in Madrid, within the framework of the Rebuild fair, the most innovative and sustainable industrialized construction technologies on the market, as a result of the collaboration that the company maintains with three other Spanish firms specialized in advanced building solutions.
Alucoil, present in the most singular works in more than 90 countries in the five continents, will attend the Rebuild fair, open during April 26th, 27th and 28th, with its own stand, located in Hall 10 – D419.
Alucoil has this year the collaboration of three other companies that have pooled all their proprietary technologies. They are  Spans Building Tech, manufacturer of industrialized modular facades, with an innovative system that drastically reduces installation times and waste on site; Sunthalpy, engineering company that created the low enthalpy energy management technology used to build the world's first 100% off-grid solar building in the Atlantic climate; and Sanilux, manufacturer of modular sanitary installations presents in the most cutting-edge hospitals and clinics.
Visitors will be able to learn about these new solutions and see in situ the first industrial low enthalpy facade module measuring 3×3 meters, which is part of the structure of the stand itself.
The module features high-performance façade cladding, in terms of rigidity and lightness, manufactured by Alucoil; a modular structure system developed by Spans Building Tech  and the Sunthalpy system, which implements its low-enthalpy concept on this structure by transforming its exterior finish into active elements that supply the building with electrical energy.
Alucoil's collaboration with Spans Building Tech and Sunthalpy results in a comprehensive solution that solves the current challenges of construction by providing a unique system under the pillars of speed of execution, cost savings and a 100% sustainable solution.
https://www.aliberico.com/wp-content/uploads/2022/04/Noticia-Rebuild_OK_web-1.jpg
320
780
Marketing
https://www.aliberico.com/wp-content/uploads/2016/06/logo-2.jpg
Marketing
2022-04-27 09:58:54
2022-04-27 10:02:59
ALUCOIL presents at REBUILD the most advanced and sustainable industrialized technologies for the building and construction sectors