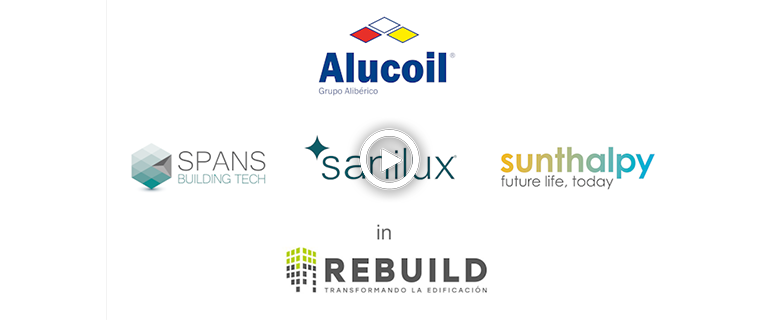 ALUCOIL has participated in collaboration with SPANS BUILDING TECH, SANILUX and SUNTHALPY in the 5th Edition of REBUILD, the National Congress of Architecture 4.0 focused on the digitization and industrialization of the construction sector through environmentally friendly solutions.
This year, the Congress, has broken attendance record with more than 17,000 participants who have been able to see first-hand the most innovative and sustainable solutions that ALUCOIL exposed and, also, have been able to attend to many conferences such as the interesting talk on the new relationship between automotive, housing and electrical industry in which participated the President of ALIBERICO, Clemente González Soler.
The Manager of SPANS BUILDING TECH, Gleb Y. Blanco, gave a conference where he explained how the latest generation of industrialized facades are and all the present and future advantages for the construction industry, such as the reduction in execution times, overall costs and generating 0 waste on site.
Omar Suárez, General Manager of SUNTHALPY , participated in a colloquium where they talked about what will be the future of society towards zero demand and zero consumption, to achieve self-sufficiency in our homes and not depend on non-renewable energy sources.
For his part, Miguel Zandio, President of Grupo Premo and his team presented at the ALUCOILstand the unique and state-of-the-art characteristics of the materials they use in their modular sanitary facilities, such as the SANILUX hybrid operating rooms.
With a strong leadership in the building sector, ALUCOIL makes clear its strong commitment to the most sustainable and innovative materials for the present and the future.
https://www.aliberico.com/wp-content/uploads/2022/05/Noticia-Video-Resumen-Rebuild-2022.png
320
780
Marketing
https://www.aliberico.com/wp-content/uploads/2016/06/logo-2.jpg
Marketing
2022-05-09 11:00:33
2022-05-09 13:32:59
ALUCOIL's participation in Rebuild 2022, a total success!