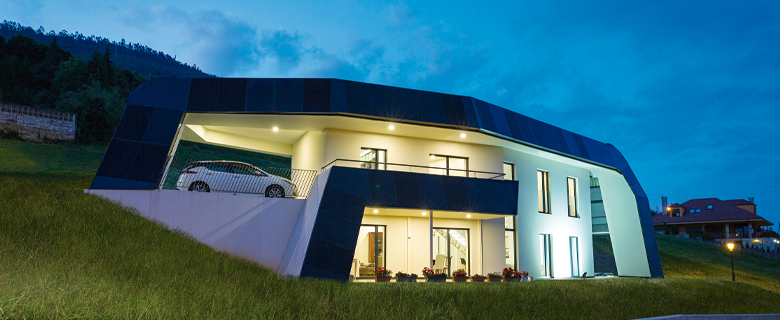 On 16 October was celebrated in Oviedo, the first anniversary of the disconnection of Sunthalpy, the first fully autonomous house installed in an Atlantic climate.
This single-family house has spent a whole year without being connected to the electricity grid and without using fossil fuels, maintaining electricity, hot water, a heated swimming pool and charging an electric car, with sunlight, in a place like Asturias, which has only 2,000 hours of sunlight per year.
Sunthalpy has created the low enthalpy solar building. It is a system of solar capture and accumulation integrated into the building, which is patented at European level and allows to convert into thermal solar panels of very high efficiency any facade or roof material (such as those manufactured by ALUCOIL) being able to cover all energy needs of buildings, even on completely overcast winter days.
Sunthalpy, together with ALIBERICO, through its subsidiary ALUCOIL, a world leader in the manufacture of panels for facades of unique buildings, with its brands larson® and larcore®, are carrying out an integration of their materials with Sunthalpy's patented solar collection technology and developing the industrialization of this technology that allows buildings to operate with clean energy, without depending on the electricity grid, thus reducing CO2 emissions and with the ultimate goal of creating a world free of greenhouse gas emissions in 2050.
The event, which was held in the house itself, was chaired by Enrique Fernández, Minister of Industry of the Government of the Principality of Asturias and by Belén Martín, Managing Director of ALUCOIL, together with Omar Suárez, CEO, founder and host of Sunthalpy.
ALIBERICO, betting today, for the materials of tomorrow
https://www.aliberico.com/wp-content/uploads/2021/01/Sunthalpy.jpg
320
780
Marketing
https://www.aliberico.com/wp-content/uploads/2016/06/logo-2.jpg
Marketing
2021-10-22 11:39:26
2021-10-22 11:39:26
The "Sunthalpy" house celebrates its first year off-grid