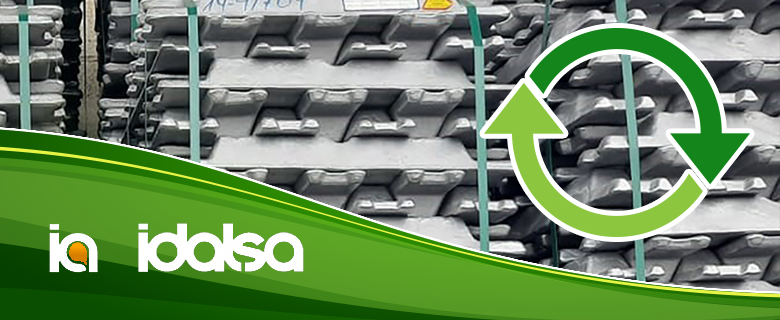 As part of its comprehensive Sustainability Plan, ALIBERICO has closed the purchase of 100% of the Aragonese company Ibérica de Aleaciones Ligeras (IDALSA), Spain's second largest manufacturer of aluminium smelting and recycling, which is the first of its acquisitions in the liquid aluminium sector, with the aim of committing to the circular economy and a green and sustainable industry.
IDALSA has a 300,000 square meter plant in the town of Remolinos, near Zaragoza (Spain), and recycles 60,000 tons of liquid aluminium from scrap metal per year.  The company currently produces 45,000 tons per year of aluminium ingots in different formats and compositions, mainly for the automotive industry. The company has a workforce of 49 workers and in 2021 had a turnover of 75 million euros, of which 70% comes from its exports to countries in Europe, America and Asia.
This investment is part of the ALIBERICO Group's Sustainability Plan, which focuses on boosting the Circular Economy and drastically reducing CO2 emissions, and certifies the Group's commitment to the United Nations Sustainable Development Goals. In early 2022, ALIBERICO started up its first self-consumption photovoltaic installation at its Alicante factory, RedBOND Composites, with the aim of obtaining environmental benefits equivalent to avoiding the emission of 200 tons/year of CO2 into the atmosphere and the planting of 400 trees. ALIBERICO is also currently implementing the IBERFOIL INTEGRA project in Sabiñánigo (Huesca, Spain), which involves the construction of a new factory in an area adjacent to the current IBERFOIL lamination plant. The new plant will be entirely dedicated to scrap recovery, smelting and coil manufacturing, and is set to become a benchmark for the Circular Economy in Spain.
With the incorporation of IDALSA, ALIBERICO now has 21 factories in the world, of which 17 are in Spain, in 9 Autonomous Communities, and another four abroad, exporting 70% of its production and selling its products in more than 90 countries in the 5 continents. ALIBERICO operates with technologically advanced aluminium products and Premium brands recognized as world leaders in the packaging, building, surface treatment, transportation, industry and renewable energy sectors.
https://www.aliberico.com/wp-content/uploads/2022/05/Noticia-IDALSA.jpg
320
780
Marketing
https://www.aliberico.com/wp-content/uploads/2016/06/logo-2.jpg
Marketing
2022-05-05 10:00:43
2022-05-05 10:03:07
ALIBERICO acquires 100% of the Aragonese company IDALSA, Spain's second largest aluminium casting and recycling manufacturer