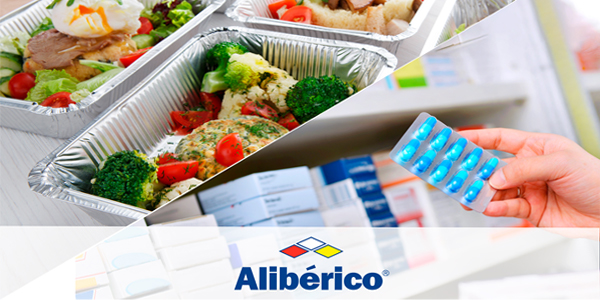 ALIBERICO, a Spanish industrial and technological group specialized in the manufacture of advanced aluminum materials is supporting and helping the pharmaceutical and food sectors in this health crisis we are experiencing through its subsidiaries Iberfoil, Alucoat and Alibérico Food Packaging.
IBERFOIL, specialized in the lamination of thin aluminium foil for the pharmaceutical and food industry and for beverage caps from 6 to 70/000 microns is present in the packaging of many recognized brands in the pharmaceutical sector for both antibiotics and drugs in sachets or tablets. It is also very present in the food sector supplying aluminium to the main companies manufacturing dairy desserts.
ALUCOAT specialises in lacquering aluminium between 20 and 500 microns thick reaches many hospitals, health centres and pharmacies every day in the form of vials for injectable medicines, syrup closures and blister packs. We can also find it on containers and lids of well-known brands, such as custards, lasagnes, margarines and jams, curds, or chocolate creams.
ALIBERICO FOOD PACKAGING, specialized in high quality semi-rigid aluminium packaging systems for food, reaches a multitude of supermarket chains and the homes of end consumers on a daily basis. We can find it in dessert food containers, baking and frozen food containers, ready-to-go and pre-cooked food, pet food containers and containers for the transport of food from catering chains.
Working at full capacity, ALIBERICO is helping the pharmaceutical and food sectors so that there is no lack of supply and helping us to get out of this crisis as quickly as possible without lacking in basic goods.
ALIBERICO thanks its workers for their efforts and dedication in these difficult times.
https://www.aliberico.com/wp-content/uploads/2020/06/Noticia-Alibérico.jpg
300
600
Marketing
https://www.aliberico.com/wp-content/uploads/2016/06/logo-2.jpg
Marketing
2020-04-16 11:58:49
2020-06-11 12:02:58
Aliberico supports and helps essential sectors in the health crisis