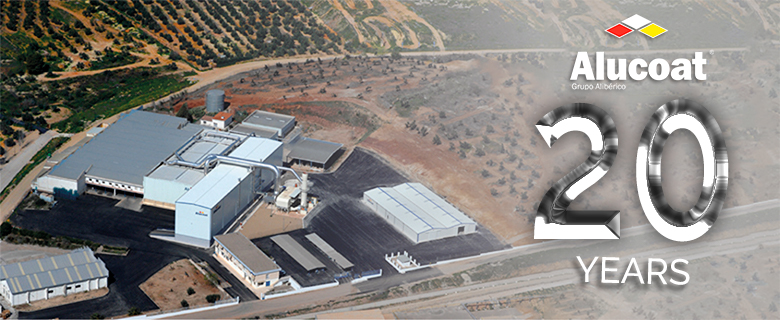 ALUCOAT celebrates 20 years, a long history where effort, commitment, enthusiasm, hope and dedication have resulted in exponential growth since it was acquired in 2001 by ALIBÉRICO.
Located in Linares, Jaen and with 80.000 sq. of facilities, ALUCOAT has been a very important driver for this city both economically, labour and social.
In these 20 years, boosted by the rapid growth of its industrial activity the company has given back the illusion to many people by creating quality employment with permanent jobs. It has also opted for education and the youngest, collaborating with Universities and Professional Training Centres, offering them real opportunities to join the world of work. In addition, it has made great efforts and investments in innovation and development, which has allowed it to develop its own technology, managing to offer unique products of the highest quality.
In these 20 years, ALUCOAT has demonstrated its commitment with people and Linares, a priority objective in which it will continue working to continue being a benchmark company in its sector, coated aluminium coils. Moreover, ALUCOAT assumes it environmental compromise, carried out strict quality controls to reduce consumption and the production of raw material and energy (SDG 7 and 12) and optimize all resources to minimize its impact on the surrounding ecosystem (SDG 13 and 17).
That is why the activity of ALUCOAT is essential and strategic not only for Linares but for Spain, because it contributes to the economic and stable growing.
ALUCOAT always committed to people, the environment and innovation.
https://www.aliberico.com/wp-content/uploads/2021/04/Foto-noticia-ALUCOAT-20-Anivesario_EN.jpg
320
780
Marketing
https://www.aliberico.com/wp-content/uploads/2016/06/logo-2.jpg
Marketing
2021-04-20 10:39:56
2021-04-20 10:51:47
ALUCOAT is celebrating its anniversary!