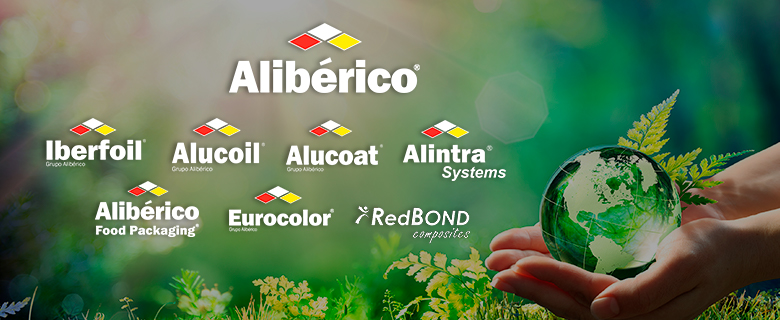 Next Saturday, June 5, is World Environment Day, an important date, especially in these critical times the planet is going through, where society, business and government must reflect on the care of our environment and promote respect for it.
This requires an active participation and commitment on the part of all towards a common goal, sustainable development. Both smes and large companies are, probably, the most important agents because they are responsible for setting an example and knowing how to transmit among their workers the message and the appropriate values to achieve the goal that unites us all, the respect and protection of our planet.
ALIBERICO, since its beginnings, is very conscious and committed to the care of the Environment and sustainable development, proof of this is that all the factories that compose it: IBERFOIL, ALUCOIL, ALUCOAT, REDBOND, EUROCOLOR, ALINTRA SYSTEMS and ALIBERICO FOOD PACKAGING, are subject to strict environmental policies that aim to Reduce the consumption of materials, waste and energy, Recycle all excess material to give it a new life, Reuse recycled material, continuously Review, Optimize and Implement improvements in its production processes to Reduce its carbon footprint, and Innovate and Develop new products that offer sustainable and environmentally friendly solutions.
This is possible, among other things, thanks to the material with which the ALIBERICO works, aluminium, a sustainable material by nature, which, thanks to its characteristics, is ideal for sustainable development and is self-sufficient in its circular economy, where everything is used and nothing is wasted. Moreover, at a very low cost because the use and recycling of aluminium represents an energy saving of 95%.
ALIBERICO is committed to the environment, sustainable development and a green future, investing all the necessary resources, transmitting to all its staff its philosophy of good work based on objectives and values and continually adapting to the changing world in which we live to ensure that the world that comes to us is better, greener, more respectful and more sustainable.
https://www.aliberico.com/wp-content/uploads/2021/06/Foto-Aliberico-noticia-MA.jpg
320
780
Marketing
https://www.aliberico.com/wp-content/uploads/2016/06/logo-2.jpg
Marketing
2021-06-04 11:31:03
2021-06-04 11:31:03
Caring for the environment, a commitment of all of us