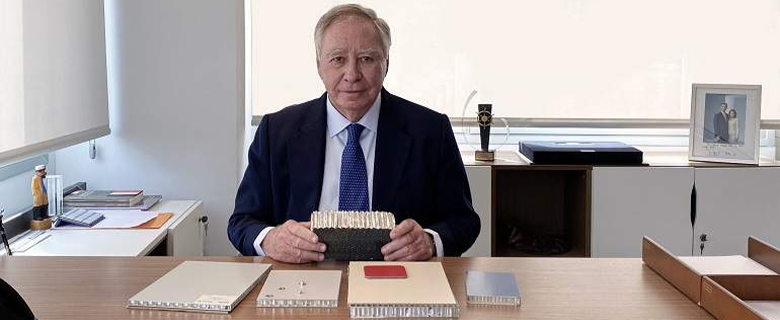 Madrid, 12 May – Clemente González Soler, President of the industrial and technological group ALIBERICO, has been appointed today as President of the Spanish part of the Morocco-Spain Economic Council (CEMAES).
The appointment was made at the proposal of CEOE, made by its president, Antonio Garamendi, at the General Assembly that this organisation held today in Casablanca.
In turn, Clemente González Soler has proposed José Ignacio Pino de la Chica, Country Manager of Caixabank in Morocco, for the position of vice-president.
ALIBERICO has two aluminium production plants in Morocco. One of them in Casablanca, ALUCOIL MAROC, a wholly owned subsidiary of the group, specialises in the manufacture of aluminium composite panels and is the leader in Morocco in the segment of facades for singular buildings.
Furthermore, through this subsidiary, ALIBERICO is a partner in ALUMINIUM DU MAROC, a listed company and the largest manufacturer of extruded profiles in Morocco and on the African continent. Clemente González Soler is a member of the Board of Directors of ALUMINIUM DU MAROC and coordinates the strategy and investment area of the company.
On the Spanish side, 30 Spanish companies with interests in Morocco are represented in CEMAES, as well as other leading Moroccan companies in their respective fields of activity.
Among the Spanish companies that make up the institution are Balearia, Banco de Sabadell, Santander, Bergé, Garrigues, Cuatrecasas, Gestamp, Naturgy, Sener and Vectalia.
 The CEMAES General Assembly also appointed the Moroccan businessman Adil Rais as co-president of the institution in representation of Moroccan companies, together with Clemente González Soler, and the businessman Ayman Cheikh-Lahlou as co-vice-president.
CEMAES is a business institution created at the initiative of the Confédération Générale des Entreprises du Maroc (CGEM) and the Spanish Confederation of Business Organisations (CEOE), which brings together businessmen and economic organisations from Morocco and Spain.  Its objectives include promoting collaboration and business integration between the two countries, with a special focus on SMEs.
CEMAES was created in 2013 as a result of the collaboration agreement signed by both organisations in Rabat in the presence of Their Majesties the King and Queen of Spain and Morocco and government representatives from both countries.
https://www.aliberico.com/wp-content/uploads/2022/05/CGS-CEMAES.png
320
780
Marketing
https://www.aliberico.com/wp-content/uploads/2016/06/logo-2.jpg
Marketing
2022-05-12 18:07:03
2022-05-12 18:07:03
CLEMENTE GONZÁLEZ SOLER, APPOINTED PRESIDENT OF THE MOROCCO-SPAIN ECONOMIC COUNCIL