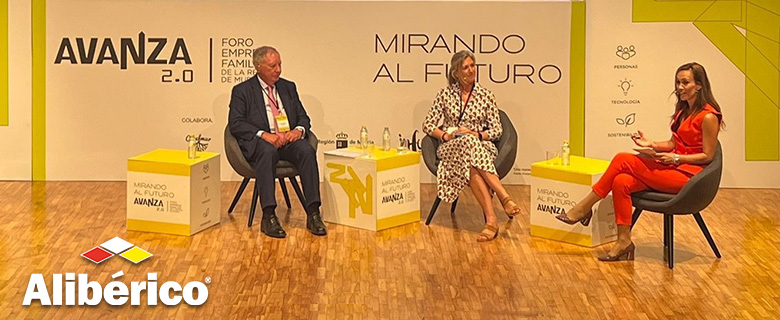 "Sustainability, digitalisation and the new global context for growing and doing business in environments of volatility and uncertainty" was the central theme of this second edition of Avanza, Foro Empresa Familiar de la Región de Murcia. This forum, promoted by the Instituto de Fomento de la Región de Murcia in collaboration with the Asociación Murciana de la Empresa Familiar (AMEFMUR), brought together important business families on Friday 16 September.
Fifteen top-level speakers took part in the Congress and analysed the relevance of the contribution of family businesses to society and the challenges they face in relation to innovation, sustainability and digitalisation, as well as the connections within the business family, the economic prospect and their impact on Spanish companies, among others.
The event featured welcome speeches from the President of AMEFMUR, José María Tortosa, and the President of the Government of the Region of Murcia, Fernando López Miras. The inaugural conference was given by Alberto Núñez Feijoo, President of the Partido Popular.
The President of ALIBERICO, Clemente González Soler, addressed during his speech the topic "How to organise the communication system and the connection within the business family". An interesting reflection on the importance of instilling in the next generations the feeling of belonging to the company and treating workers with respect so that they feel valued and thus retain talent. Victoria Plantalamor, President of the Family Business Association of Madrid and CEO of Grupo Industrial Crimidesa, debated with Clemente González and highlighted the vital role of communication in choosing the next generation of the company. The discussion was moderated by Azucena Marín, Communication Director of Zambudio Group.
The event was closed by María del Valle Miguélez, Regional Minister for Enterprise, Employment, Universities and Spokesperson of the Autonomous Community of the Region of Murcia.
https://www.aliberico.com/wp-content/uploads/2022/09/Foto-noticia-participacion-CGS-en-Foro-AVANZA.jpg
320
780
Marketing
https://www.aliberico.com/wp-content/uploads/2016/06/logo-2.jpg
Marketing
2022-09-19 10:30:08
2022-09-29 10:43:51
Clemente González Soler participates in Avanza, Foro Empresa Familiar de la Región de Murcia