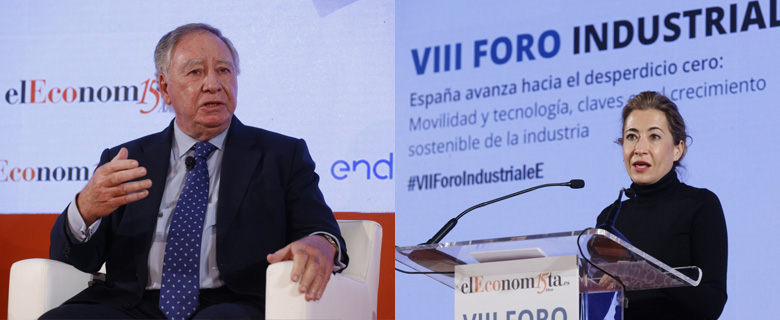 The economic newspaper elEconomista held yesterday the VIII Industrial Forum under the title "Spain moves towards zero waste: Mobility and technology, keys to sustainable growth in industry".
The event was opened by Ms. Raquel Sánchez Jiménez, Minister of Transport, Mobility and Urban Agenda.
This was followed by the round table "Innovation for sustainable development and circular economy" with the participation of Mr. Clemente González Soler, President of ALIBERICO, together with Mr. Iván Rejón, head of Strategy, Gov't & Pulic Affairs of Ericsson; Mr. Javier Vaca de Osma, Technology and Processes director of Ferrovial; Ms. Jerusalem Hernández, partner of Sustainability and Good Governance of KPMG in Spain and Mr. José Manuel Pardos-Gotor, digital manager of the Ecity project of Endesa. The round table was moderated by Mr. Amador G. Ayora, director of elEconomista.
Clemente González Soler, began his speech by highlighting the purpose of his company; "We take care of People and the Environment with Aluminium Advanced Solutions", and how, through innovation, ALIBERICO's aluminium solutions are helping sustainable mobility in electric buses and mass transport, saving up to 40% in weight, reducing fuel consumption and thus reducing the impact of the carbon footprint in transport.
In his speech, Mr. Clemente highlighted the importance of the circular economy for Spain, "We want to be self-sufficient in the raw material of aluminium. This will allow us to greatly reduce costs, delivery times and support the country in terms of sustainability". The President of ALIBERICO stressed the importance of the industrial sector for Spain, a sector that provides stable jobs, security and economic stability, as well as investing great efforts in innovation, technology, digitalisation and sustainability.
ALIBERICO, committed to industry, innovation and infrastructure (SDG 9).
https://www.aliberico.com/wp-content/uploads/2021/12/Noticia-Foro-Industrial-ElEconomista.jpg
320
780
Marketing
https://www.aliberico.com/wp-content/uploads/2016/06/logo-2.jpg
Marketing
2021-12-03 09:37:16
2021-12-03 09:37:16
Clemente González Soler participates in the VIII elEconomista Industrial Forum.